#1 Xeriscaping Service in San Antonio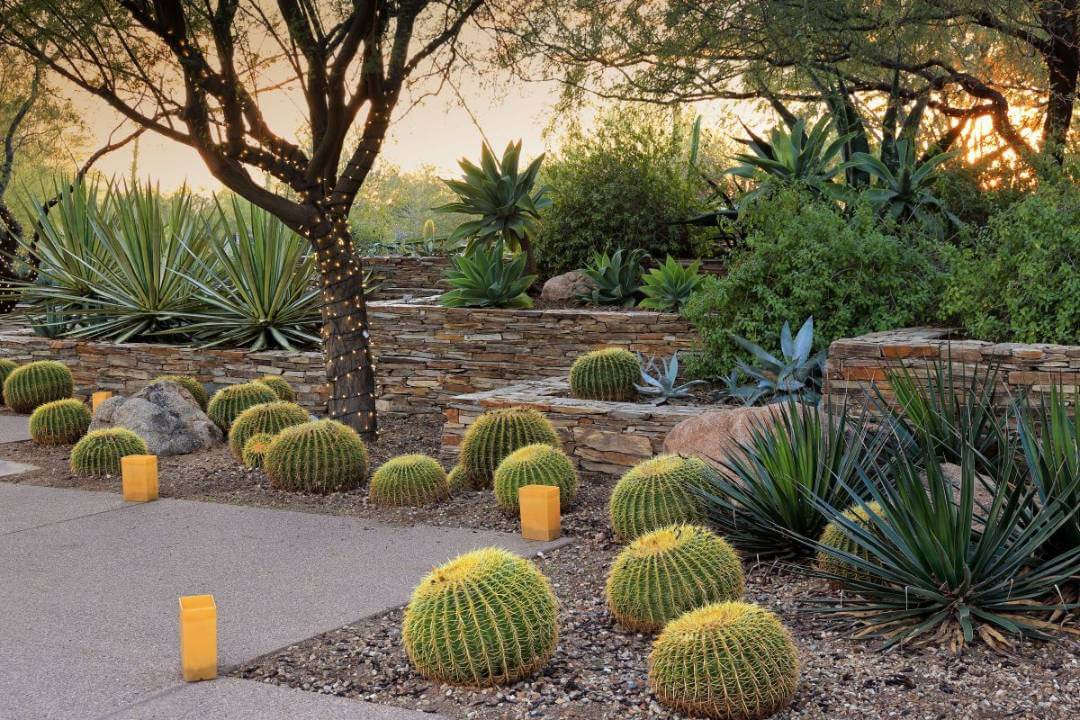 Xeriscaping in San Antonio is growing trend. Due to the expanding water restrictions, having drought-resistant plants and low maintenance landscaping is a must.
Landman Group, Inc. is a expert in providing an attractive, low-maintenance and drought resistant xeriscape.
If you're looking to integrate drip irrigation into your landscape or simply want switch plants to reduce the amount of water you use, we can help you meet your aesthetic and water conservation goals with our xeriscaping service.
Although for a long time the idea of green lawn and a garden full of blossoms has been the norm on how homeowners consider their outdoor space, xeriscaping is catching up as an eco-friendly alternative to the garden design.
Xeriscaping considers the topography and climate creating a design that is perfect for the requirements. Although you might be envisioning an area that is mostly made of cacti and rocks, there are plenty of options for those who want to establish a garden. With Landman Group, Inc.'s keen eye for detail, your xeriscape garden will probably be just as stunning and vibrant as a typical one.
Plants that are drought-tolerant and less thirsty don't have to be boring. If you're seeking to add some color then why not choose something like lavender blue, it would be great for your garden with its beautiful blossoms and sweet smell. Or Poppies, with their bright, vibrant flowers are definitely difficult to miss. The drought-resistant grasses and rocks are also good to plant in your garden, as a means to emphasize and frame the more vivid plants.
The advantages of xeriscaping can be numerous. In addition to minimal irrigation, plants utilized in xeriscaping need minimal maintenance which means that the costs for it can be less than traditional landscaping. Also, it means that you spend less time in the garden weeding out!
Xeriscaping is a method of working with the environment rather than working against it. In the majority of climates, achieving the beautiful green carpet of lawn is not sustainable since the surrounding isn't suitable for that type of plant. Considering the native species that exist throughout San Antonio, TX, Landman Group, Inc. is able to create stunning gardens that flourish without having a lot of maintenance.
Another benefit is how original xeriscaping can be. Because it is a different approach to the standard garden layout, xeriscaping lets you fully explore your creative side in search for interesting plant species and rock formations that enhance the natural surroundings of your yard. Along with xeriscaping the possibilities are endless.
The Right Approach to Xeriscaping
Xeriscaping is a high-technical job that requires expertise and a thorough understanding of the process. There are only a handful of contractors in Texas that are able to work on this kind of work, and you must ensure that you choose the right one. Being experts in this field we are able to design a perfect xeriscaped outdoors. Our approach will transform your backyard from barren backyard to an exquisitely designed landscaped property. We accomplish this by focusing on three main components of xeriscaping. These essential elements of the landscape include trees and plants, compost and mulch, and gravel and rocks.
Trees & Plants. We at Landman Group, Inc. use native plants in a xeriscaping project. They are drought-resistant, so you don't have to worry about irrigation costs and high maintenance. Our plant specialists will create a perfect garden design strategy to reduce water usage by grouping plants that have similar water requirements.
Compost & Mulch. The xeriscaping project will not be completed without the use of compost and mulch. 

Mulch serves as a barrier that assists in locking-in soil moisture.

 

It is a great source of nutrients, so the need for synthetic fertilizers is reduced.

 

The landscape will also appear attractive and vibrant because mulches come in a variety of sizes and colors.

 

You can choose from pine straw, wood chips and various other environment-friendly mulches.

 

Meanwhile

, compost is advised for dry and barren soil.
Gravel & Rocks. Gravel and rocks are crucial elements to any xeriscaping project. 

They can be used as accents or as primary designs in some garden setups.

 

We make sure that they are properly installed and placed in their correct places to create the most unique landscape setting.
GET YOUR FREE CONSULTATION
The task of removing turf and setup your new garden can be daunting, but following the initial setup, xeriscaping is really a time-saver. If you're doing these tasks on your own, we recommended to break down the task into smaller pieces to prevent overwhelming yourself. Even if you decide to transform your backyard from a traditional one to a xeriscape without the help from Landman Group, Inc., we'd be glad to offer you helpful advice and insights we've gained over the years.
If you want to get an understanding of which plants produce the most value and are most effective, contact Landman Group, Inc. now. Our expert staff would be pleased to provide you with the complete list of plants will that'll flourish if you're living in San Antonio, TX and provide some tips on how to maintain your garden gorgeous for years to come.